Michael Jordan had to go to Las Vegas and wake Dennis Rodman up after Chicago Bulls allowed him a 48-hour 'holiday' with Carmen Electra
When Dennis Rodman, the Chicago Bulls' larger than life star, went partying in Las Vegas it took the power of Michael Jordan to bring him home.
Rodman was one of a trio of stars, along with Jordan and Scottie Pippen, in the Bulls' dominant side of the 1990s and are arguably the best NBA team basketball has ever seen.
Getty Images - Getty 4 Jordan, with Dennis Rodman, left, and Scottie Pippen, right were an iconic trio for the great Chicago Bulls basketball team
But Jordan was the superstar and is commonly regarded as the greatest player to ever play.
By the time of the 1997/98 season, the Bulls had five titles to their name and were looking for a second, unprecedented three-peat.
Turmoil behind the scenes, though, threatened the greatness they were on the cusp of.
Jordan, although formidable, was turning 35 and with Pippen undergoing late surgery – on purpose due to contract frustrations – which ruled him out of the first 35 games of the season, he needed Rodman to step up.
The eccentric rebounder, who dated Madonna in addition to model-turned Baywatch actress Carmen Electra and known for his multi-coloured hairstyles, tattoos and piercings, rose to the task.
AFP - Getty 4 With his piercings, tattoos and different coloured hair, Rodman was the Maverick in the Chicago Bull side and was allowed to go and blow off steam in Las Vegas
"You hear a lot of negative things about Dennis Rodman. But you don't actually know Dennis Rodman," the former Chicago Bulls star told episode three of Netflix's The Last Dance about himself.
"They just see what they see on the court and see what they read in the papers. They think he's a bad person.
"Nobody can say anything bad about me as a teammate," Rodman added.
"You have the great Michael Jordan. You have the great Scottie Pippen. You have the great [coach] Phil Jackson. But if you take me away from this team, do they still win a championship? I don't think so."
NBA Classic - Getty 4 The Bulls won six titles in the 90s, beginning with the first three-peat happening between 1991 and 1993 and the second between 1996 and 1998
Jackson said Rodman held the team together, while Jordan acknowledges his teammate carried the team at times in a way he couldn't.
"Dennis was a model citizen to the point where it was driving him f***ing insane," Jordan explained in the third episode.
And so when Pippen returned from injury, Rodman felt he needed a holiday.
He was given 48-hours off and swapped the Windy City for Sin City with Electra in tow.
He didn't return on time.
"We had to get his ass out of bed," Jordan recalled laughing.
4 Electra said being Rodman's girlfriend was 'definitely an occupational hazard'
The most famous sportsman on the planet travelled to Vegas to literally bang on his bedroom door and wake him up as Electra hid.
"I do remember being in Vegas with [Dennis]." she said.
"The party was starting right away. One thing about Dennis, he had to escape. He liked to go out. He liked to go to clubs. We'd go to his favourite restaurant. Then we'd go to a nightclub. Then we'd go to after hours. It didn't stop. It was definitely an occupational hazard to be Dennis's girlfriend. He was wild.
"But to be honest, I didn't realise what the team's schedule was," she continued. "I didn't know he took a detour."
To ensure that Rodman got back in shape after 'blowing off steam', Jackson organised a conditioning drill that forced everyone to match the pace of the players in front of the line. While most walked or jogged lightly, when Rodman reached the front of the line Jordan said he held the lead against the rest of his teammates for four laps.
"He needed to get away. But in all honesty, Dennis was always there," Jordan said. "He was always on point."
"He's So Fu**ing Easy To Play, He's Just Big": Dennis Rodman on LeBron James' Game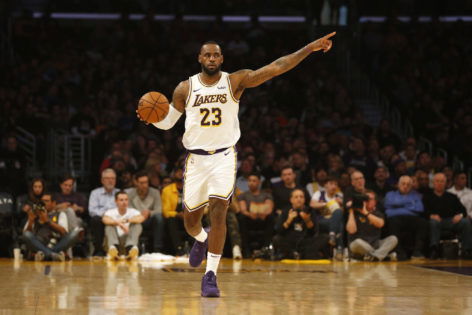 Apart from being a five-time NBA champion, Dennis Rodman's reckless personality is why he is famous. Rodman once went overboard with his comments and slammed LeBron James for his simple game.
Making an appearance for YouTube channel 'Overtime,' Rodman was cast in a segment where he was put in a lie detector test. Rodman didn't hold back against the funny questions that were put against him. For instance, he was asked to pick between his ex-wife Carmen Electra and Madonna.
The NBA legend then received a question which might have hit him in the head directly. The host asked him if he could guard LeBron James for which he took it as an offense and answered back in the most crooked way.
Rodman slams LeBron James for being "too simple" on the court
Rodman had no second thoughts on answering the question he received. "Can you lock up LeBron?" He replied by saying "I could have locked his a** up." The red light immediately flashed indicating that Rodman was lying from the heart. He may have thought that LeBron indeed was a tough man to guard.
That is not all. In Rodman's eyes, LeBron James has got a poor game with no moves on the court. "LeBron is so easy to play. He is so f***ing easy to play. He has got no moves." He mentioned how James just runs straight down the line with no other move to display.
"Scottie Pippen could shut his fuing a down quick before I get to him," he said. Donning a "Make Basketball Tough Again" cap in the interview, he talked about how the 6-foot-9 Lakers man just drives straight through to dunk.
Rodman had nothing to spare against LeBron's "simple" game. "I've played against guys 7 foot…300." He registered that LeBron is not equipped with other skills apart from running in and dunking. Safe to say that Dennis Rodman is no fan of big guys who like to use their physicality to control the game.
He even game a similar remark when asked about Kevin Durant's game. "They are just long. They are just tall." He stated that the height and the dunking ability is all these guys have got. Rodman is not holding back when it comes to giving his opinion on current NBA stars. He gives his outright opinion and never hesitates in doing so.
Dave Cowens: When Dennis Rodman 'hit' the road
It was a lot like asking your priest for permission to pop wheelies in the church parking lot.
Dennis Rodman and a group of friends were taking a motorcycle trip from San Antonio to Luckenbach, Texas, and the mercurial then-Spurs star liked Dave Cowens enough to invite him along.
"I had a Harley-Davidson of my own," the Celtics legend, at the time a member of Bob Hill's Spurs coaching staff, says now. "We had a posse — all his friends, and a big-wheeled truck. There were four or five guys on motorcycles, and we were doing a whole trip up to Luckenbach, Texas, like the song — Willie (Nelson), Waylon (Jennings) and the boys going to Luckenbach."
Except that the leader was Rodman, who in part due to a romance with Madonna had let his flamboyance hit full blossom during his two seasons as a Spur from 1993 to 1995. It was the eve of Rodman's trade to Chicago — a period extensively detailed in episodes 3 and 4 of ESPN's "The Last Dance" — and Demolition Man, as he was known, loved the open road.
Gregg Popovich was the general manager, and the young curmudgeon's patience had already been sorely tested. He had suspended Rodman twice, forcing his power forward to miss the first 19 games of the 1994-95 season, and it was now early December.
So Cowens had to get permission.
"We were going up there in the high country, and I told Pop and Bob Hill that Rodman asked me to go with him," he said. "I said he's going on a motorcycle, you going to let him go? They said sure, go with him, and make sure nothing happens."
Make sure nothing happens. Cowens laughs hard about that one, now.
Everything was fine until Rodman and another rider failed to make it through a traffic light with the rest of the group. Cowens, the other riders, and the friend driving the truck had reached a four-way intersection at the top of the hill and were waiting, when the two stragglers, at high throttle, came into view and quickly passed the group.
"They didn't know there was a stop sign up there. So when they hit the stop sign, all of a sudden both bikes, they just laid them down, and both guys were flying through the air," said Cowens. "(Rodman) flew right by me — did a somersault in the air, head over heels, hit down on his (rear), went back, went back on his elbows, tore the (expletive) out of the white T-shirt he had on.
"When he got up his jeans were smoking, actually smoking from going along the hard top. His bike was laying down, and I'm going 'Oh my God.' He was in a lot of pain.
"So they put him in the truck, I told them to take him to the hospital – 'no, I don't want to go to the hospital.' I said 'no, take him to the hospital, I'm going to call Pop and tell him what's going on.' I had to wait for a tow truck to come along and pick up the two bikes, go down to the local police station because someone had seen the whole thing and called it in. I had to stay behind and clean up the mess."
Then Cowens called Popovich. Asked what the general manager said, Cowens' laugh simply got deeper.
"I said I don't know what's going on, but we're taking him to the hospital, and we're keeping it all hush-hush for now," he said. "Tried to hush it up as much as possible. And this is in-season.
"He came back after about a month. I was worried. I thought I might be getting fired."
But, as Cowens discovered, Dennis Rodman wasn't merely wild. After missing roughly a month with a dislocated shoulder, Rodman was back on the floor, this time for the rest of the season.
"He's a tough guy," said Cowens, who had his own way of defining that quality during his career.
"After awhile he came back and his shoulder had gotten some scar tissue in it," he said. "So he went out and played and I remember his first game he just instinctively went up to get a rebound, and crashed down to the floor in agonizing pain.
"He just tore all that scar tissue just by going after the ball. He came back to the bench, moved it around, and said damn, it kind of feels OK right now. I admired him for his toughness. He trained hard. He's just an odd duck. He had his own ways for his own reasons."