Charles Leclerc recalls childhood meeting with his Ferrari hero Michael Schumacher
Meeting legends, people you have looked up to, in real life can go one of two ways. They're not anything like you expected and you're left disappointed, or they meet your expectations. It was certainly the latter when Leclerc met seven-time world champion Michael Schumacher…
During a break in kart testing in the mid-2000s, at Circuit Paul Ricard, Leclerc and some of his competitors were invited to pop into the adjacent F1 track to meet Schumacher while he was testing at the French venue with Ferrari.
Leclerc tweeted a picture of the meeting last week, showing the German signing their overalls, saying: "I never thought I would be driving for the same team he was driving for back then."
During an interview with Formula1.com, Leclerc recalls being in awe of meeting F1's most successful racing driver and was immensely grateful he found time to chat to them.
WATCH: Michael Schumacher Sends an Emotional Message to Mercedes Ahead of Final Race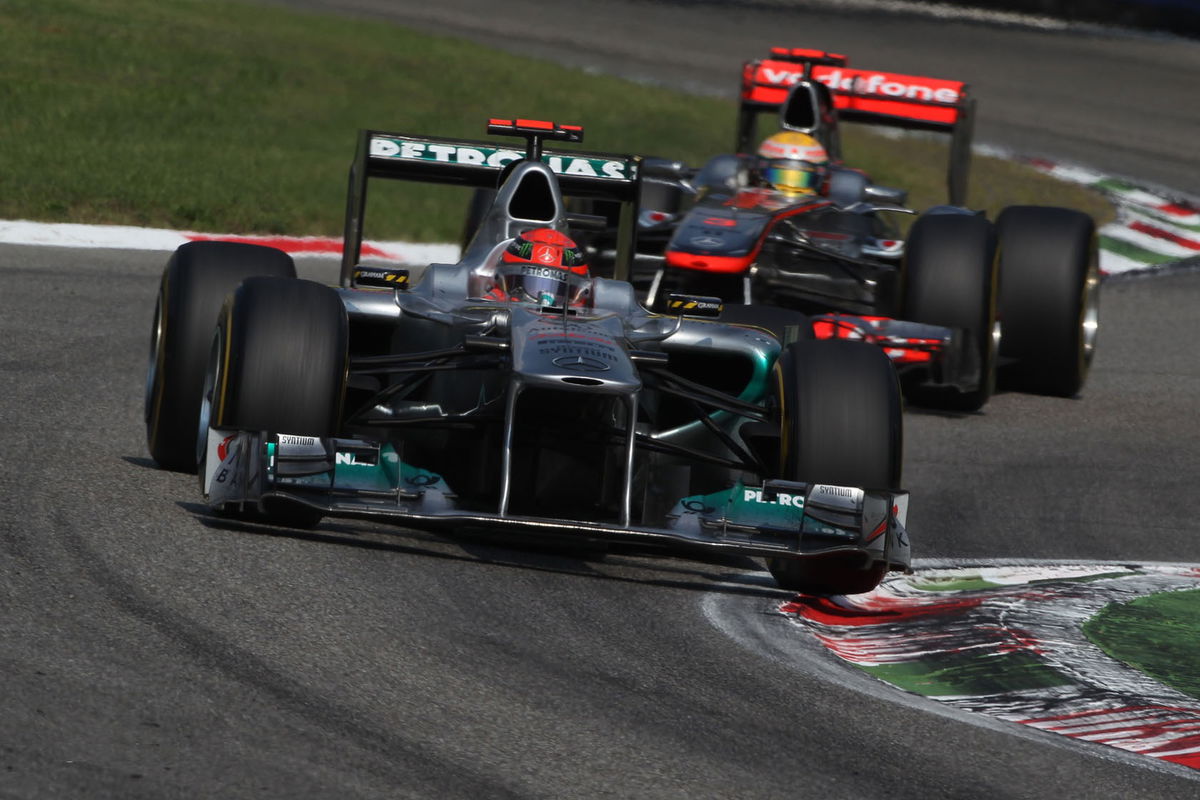 The 2012 Brazilian Grand Prix marked the official final race for F1 legend, Michael Schumacher. Although he stepped away at the end of the 2006 season, he returned in 2010 with the Mercedes F1 team. After three years, which bore just one pole position and one podium, the 7-time world champion retired for good.
At the final race of the season, Michael Schumacher delivered an emotionally-charged message meant for the team. He said, "Guys, I'm on the way to the grid. I would like to use the opportunity to say thank you to all the boys, all the mechanics, the engineers who I have been working with. I would like to say as well, thank you to all the people that have been following us around the world, everywhere, watching us on television"
He continued, "Staying on track, sharing all the emotions and all the good times that we have had together. I just want to say thank you for being there with us and sharing my particular passion for so long. Thanks for all of these wonderful times and good memories. It's gonna be… Thanks again. Now, let's go and get ready to rumble, for another good race."
While most eyes were on the duel at the front… Formula 1's most successful champion was beginning an emotional final Grand Prix for @MercedesAMGF1 👏#F1Rewind ⏪ #F1 @emirates pic.twitter.com/kpmJZYYGOa — Formula 1 (@F1) April 25, 2020
Mercedes paid tribute to Michael Schumacher and his contribution to the team
An equally emotional Ross Brawn got on the radio and thanked the German legend. He confessed that it was a privilege and honour to work alongside him. The two have worked alongside each other right from the time when they were in Benetton, to the hugely successful Ferrari era and now with Mercedes.
Sadly, Michael Schumacher ended the race in a disappointing 7th place and denied a swan song. However, he can take pride in the fact that he went out on a high note, with his Valencia GP podium. In addition to that, he grabbed pole position in Monaco, though he later copped a penalty for an infringement in the previous race.
To this day, Michael Schumacher is steadily trying to recover from his traumatic skiing accident
Michael Schumacher's manager reveals why Formula 1 ace failed in Mercedes comeback
Fans from all over the world have flocked to the Ferrari Museum in Maranello to see the "Michael 50" exhibition for the renowned Formula 1 driver.
Michael Schumacher's long-time manager Willi Weber said the Formula 1 superstar's return to racing was "unnecessary" and has explained the German driver's failed comeback at Mercedes.
After claiming five of his record seven world titles with Ferrari, Schumacher stepped away in 2006 but was lured back by Mercedes in 2010.
His three years there saw finishes of ninth, eighth and 13th and legendary car designer John Barnard, who had previously worked with Schumacher at Ferrari, felt that the Mercedes cars were struggling to be set up to his liking.
GETTY IMAGES Michael Schumacher's return to Formula 1 racing with Mercedes never went smoothly.
Rising star Nico Rosberg preferred a car that had a stable rear while Schumacher wanted a lighter rear end to force the car to oversteer and then hit the acceleration pedal again.
READ MORE:
McLaughlin fuming after IndyCar crash

Schumacher isn't F1's GOAT

Ferrari close to Vettel extension deal

F1 lauds Scott Dixon
Weber was in complete agreement as to why Schumacher failed at Mercedes.
"I see it 100 percent the same way," Weber told Kolner Express.
"Michael had this special car setup for his style and didn't get it from the Mercedes.
"The newer cars had developed in a different direction, and Michael couldn't influence the technology as much as he could at Benetton and Ferrari.
GETTY IMAGES Michael Schumacher drives his last Formula 1 race for Mercedes at the 2012 Brazilian Grand Prix.
"That is true, but after Ross [Brawn] could not improve the car much after 2009 and Rosberg was suddenly the faster one, Michael couldn't compensate for that. It was a different technology and driver generation, even though Michael was as fit as ever.
"Michael failed at Mercedes. If only he had listened to me.
"He tried everything and together with Rosberg they made the car faster so that Mercedes could be world champion so many times. But it [returning] was still unnecessary as a goiter."
But Weber said that despite his flat finish with Mercedes, Schumacher was "still the greatest in F1".
On the back of the development platform laid down by Schumacher and Rosberg, Mercedes now rule Formula 1 with British driver Lewis Hamilton in charge.
Hamilton has six world titles, one less than Schumacher.