Boris Johnson's illness might change his approach to the UK's coronavirus crisis
Britain's prime minister Boris Johnson was back at work today, after recovering from a serious bout of Covid-19. Speaking outside 10 Downing Street this morning, he said the UK is still in danger.
"I refuse to throw away the sacrifice of the British people… and risk a second peak," he said. They were solemn words for someone who has been through a lot lately. Here's a recap:
An illness that shook the nation
Johnson became the first world leader in late March to confirm he had tested positive for coronavirus. Although the prime minister and his aides insisted he had mild symptoms and was "in good spirits," that narrative was abandoned on April 5 when Johnson was admitted to hospital. The next few days were disquieting for the country, especially after he was transferred to intensive care.
He would eventually recover. But commenting on his own illness after being discharged on April 12, Johnson said that "it could have gone either way." He thanked the NHS, and the two immigrant nurses—Jenny from New Zealand and Luis from Portugal—for remaining by his bedside during this time.
It was a jarring turn of events for Johnson—a man who weeks earlier appeared to downplay the severity of coronavirus. "I was at a hospital the other night where I think there were actually a few coronavirus patients, and I shook hands with everybody, you'll be pleased to know," he said.
Johnson's keep-calm-and-carry-on ethos dates back a while. After all, this was a man whose political role model was a fictional character in a 1970s Steven Spielberg thriller: "The real hero of Jaws was the mayor, a wonderful politician. A gigantic fish is eating all his constituents and he decides to keep the beaches open," he once said.
But it might not be the best approach during a pandemic—experts say it's better to over- than under-react.
The UK took a long time to act
There have been more than 20,000 Covid-19 deaths in hospitals in the UK. The worst day—on April 11—saw the number of casualties surpass even the peaks seen in Italy or Spain, the hardest-hit European countries to date.
And during the early part of the outbreak, Johnson was often absent. Cobra, the UK government's emergency committee, held its first discussion about coronavirus on Jan. 24, but he skipped the meeting. Johnson would miss four subsequent ones, in part because he spent two weeks at his country retreat, before finally attending on March 2.
Those weeks were crucial. The UK was already short on personal protective equipment, the country had one of the lowest per capita number of intensive care beds in Europe, and the Brexit saga had put training for key workers on pandemic response on hold.
On March 12, Johnson told the public that the possibility of stopping community spread was gone, and that the government was moving to the "delay" phase in its coronavirus response. The UK's chief scientific officer, Patrick Vallance, made a remark that the country would seek some level of "herd immunity," comments that sparked sharp criticism.
A few days later, on March 16, a team led by Neil Ferguson at Imperial College London forecast that there could be hundreds of thousands deaths if more decisive action was not taken, and that the NHS would be overwhelmed. That day, Johnson told Brits to avoid all non-essential contact, and a full lockdown took effect on March 23, later than other European countries.
What comes next?
The number of people being hospitalized has slowed since Johnson's recovery, but not to the level public health officials have hoped for. Once this is all over—which could be a year or more away—the UK death toll could be one of the highest in Europe.
But despite the grim forecasts, there is an opportunity for Johnson. He is neither a conventional politician nor a typical Tory. In the last election, Johnson ran on a platform (pdf) that bucked his own party's recent views on public spending.
He could pour money into the NHS—the institution that "saved" his life—and position himself as its biggest advocate. But first, he'll need to decide how long the lockdown should stay in place, with a formal review due by May 7.
Johnson has in the past shown a willingness to recognize mistakes. "OK, in that instance he [the mayor of Jaws] was wrong. But in principle we need more politicians like the mayor," he said of the character's decision to keep the beaches open. Today, Johnson appeared willing to carry on with the lockdown for as long as needed. One wonders whether his own illness could make the difference.
Lorraine Kelly expresses concerns over Boris Johnson's appearance as he returns to work
TV's Lorraine Kelly has expressed her concerns over Boris Johnson following his battle with coronavirus.
The Prime Minister returned to work today (April 27) and delivered a speech outside Downing Street about the coronavirus pandemic.
His comments were discussed on Good Morning Britain and Lorraine said she thinks he still doesn't look well after he recently battled the virus in hospital.
Lorraine Kelly thought Boris looked "a bit peaky" (Credit: ITV)
Read more: Dr Hilary Jones warns it's 'completely wrong' to think coronavirus lockdown is nearly over
What did Lorraine say?
The presenter said: "He still looked a bit peaky. He didn't look in the best of health but clearly he was able to talk."
Dr Hilary Jones added: "Yes I agree."
What did Boris Johnson say in his speech?
He urged Brits to remain patient and stick to the lockdown rules.
Boris Johnson returned to work today (Credit: SplashNews.com)
Boris said he believes "we are coming now to the end of the first phase of this conflict" but insisted easing off could lead to a "second spike" in the outbreak.
He said: "I ask you to contain your patience because I believe we are coming now to the end of the first phase of this conflict.
"In spite of all the suffering, we have so nearly succeeded."
However, the prime minister insisted he doesn't want to risk a second outbreak.
He added: "I refuse to throw away all the effort and the sacrifice of the British people and risk a second major outbreak and huge loss of life and the overwhelming of the NHS."
'There are real signs we are passing the peak.'
Prime Minister @BorisJohnson gives a statement outside Downing Street on his first day back at work after suffering from coronavirus. pic.twitter.com/nHReb6uRCF — Good Morning Britain (@GMB) April 27, 2020
Read more: Dr Hilary Jones warns families could have to spend Christmas apart due to coronavirus
Meanwhile, on today's GMB, Dr Hilary warned it's wrong to think the coronavirus lockdown is nearly over.
He explained: "This virus behaves in ways we don't fully understand at all. We can't even think about end of lockdown yet.
"If we allow a second peak it's going to cause a lot more deaths. Yes, we need to end lockdown… but with the right people at the right time.
"To let people think this is nearly over is completely wrong."
Are you coping in lockdown? Leave us a comment on our Facebook page @EntertainmentDailyFix and let us know.
Boris Johnson's message to Britain on the lockdown is 'trust us'. Why should we? | Zoe Williams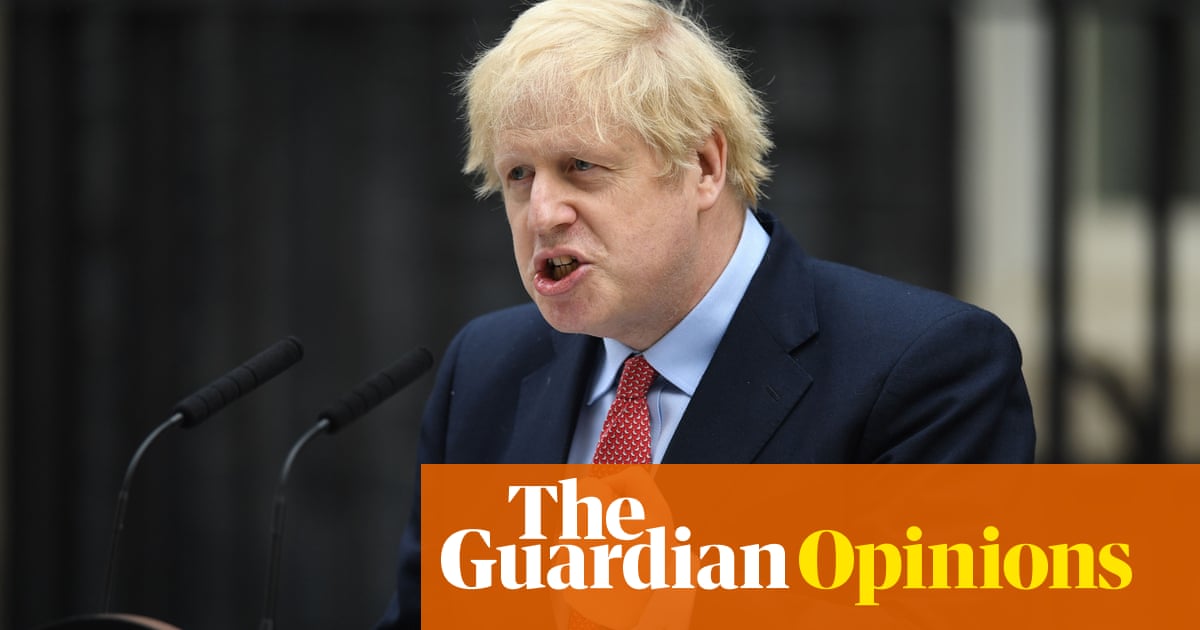 Lockdown is breaking down. Or is it? The Daily Express has pictures of packed beaches in Brighton, yet locals dispute their veracity. Traffic was at its highest over the weekend since restrictions began. Rumours abound that cleaners and nannies are being quietly rehired; that people are visiting loved ones under an array of special circumstances. On Sunday, you could smell the barbecues – but what were you doing out, within smelling distance, anyway? The guy in front of me in Co-op was buying 48 beers and a tub of ice-cream. But he can't have been having a party, I decided. No way was that enough ice-cream.
In the last days of March, there was huge solidarity around the restrictions themselves: 10 days in, there was a much sourer unity building around censure of the bad people, the ones who were sunbathing. I suspect a new, nudge-nudge-wink-wink solidarity will emerge around noncompliance, which will go head-to-head against the group that remains committed to lockdown. But the lines will be confusing: especially in the US, but also here in Britain, those ideologically most aligned to the government are the ones that reject its proscriptions most strongly. Lockdown is active and collective – we all have to do it, constantly, for it to exist at all. So the process around it has to be deliberative, just, consensual and transparent – otherwise the buy-in will evaporate.
On Saturday, the Nuffield Council on Bioethics spelled out the "basics of democratic governance", as they related to Covid-19. There are balances to be struck between different interests and different risks, who and what should be prioritised, who should bear responsibility for what. Following the science "is not politically or morally neutral". We all need to discuss decisions that affect us all, and to do so we need more information, more openness, more pluralism.
This was all so unarguable, so level-headed, that it only became interesting when counterposed against Boris Johnson's speech this morning: a huge duvet of flim-flam congratulating us on our national resolve was meant to be warming, but instead felt infantilising and obscure. When the prime minister reached his point, it turned out to be: "We simply cannot spell out now how fast or slow, or even when, those changes will be made." While it made no sense on its own terms ("even when"? What do "fast" and "slow" mean, except "when"?), its meaning was quite plain: the government cannot bring you into its decisions; you must prepare yourself to know nothing, until such time as we can tell you something; we will not be pressed on when that will be.
There followed some lip service to "maximum possible transparency" and building "the biggest possible consensus". But without any concrete sign of those things, it was simply a demand for ultimate trust. Trust the government to know when the first peak is over. Trust it to know what the second peak will look like. Trust it to evaluate all the trade offs in a democratic way. It's quite an ask from a government whose basic competence, throughout, has been so questionable.
Johnson lacks the personal credibility to beg this confidence, but the inadequacies spread far wider. The chancellor, Rishi Sunak, is popular in some quarters: others point out that it's easy to be liked when, every time you open your mouth, it's to hose money at people (and easy to be disliked, when that money never materialises). Either way, Sunak is completely untested; it would be extraordinary at any time to have such an inexperienced chancellor, let alone now.
The key figures of the cabinet, Dominic Raab and Michael Gove, were chosen for their hawkishness on a now completely irrelevant issue, but that trait lingers in both: "I'm in charge, don't ask questions, leave me alone to get this done." There were, four months ago, enough people in the country with little enough interest in the future of tedious trade deals that they were prepared to do exactly that. There is nobody with so little to say about their own health and livelihoods that they'll extend the same blank cheque to a crisis like this one.
Below these ministers sits a layer of politicians – Priti Patel, Matt Hancock, Helen Whately – who are trying to touch the grace notes of patriotism and self-sacrifice without anything like the gravitas or credibility they need. It's almost painful to watch, like someone trying to play Mozart's Requiem on the spoons.
Even normally supportive newspapers are beginning to pick apart the competence, honesty and preparedness of the government. Yet what will really damage it is not the failing of any individual or policy, nor that failing coming to light; but rather, its modus operandi, which is built on dominance. We watched a cohort of politicians elevate themselves by their disregard for consensus: it came to be understood that discursive politics was for the good times, and when things got serious, strong men with their bare assertions were required. Of course, the opposite is true: a real crisis needs everyone to cooperate; and for that, everyone must be heard.
If Johnson thinks his Downing Street statement bought him time, it didn't; it fired the starting gun for a race towards some real transparency, a wider debate of maturity and complexity, undertaken with better, fuller information. If he can't get there by 7 May, when the next review of the lockdown is due, the country will simply outpace him.
• Zoe Williams is a Guardian columnist